We've been quiet so here's our 2021 in review…
Published: 6th January 2022 | Author: Kate Howes
Has anyone else looked back to 2021 and thought 'well, that was a weird one?'. We can't be alone! For us, it seems 2020 and 2021 rolled into one big, unusual year where there was a lot of just putting our heads down and getting through it. It's nice to take some time to reflect, and, we've not posted in over a year so it's good content, too 😁
Winter  2020  –  Spring  2021
Remember that? The Christmas that got canceled and lockdown 3 in full swing just before the nation started to get vaccinated. We stayed open, but with just Gemma holding the fort. It was quiet at times and a bit scary but as it was our third lockdown, lots of companies seemed to be managing and continuing to hire. This work really kept us going but wasn't quite enough for the two of us to be here sadly. Like much of the rest of the nation, we muddled on and kept our chin up!
May  2021 …
By May the other half of Horizon – Kate had returned! And office dog Joy. Horizon HQ was fully staffed again and the world seemed to be re-opening fully, with vaccinations being rolled out everything felt a bit brighter…finally!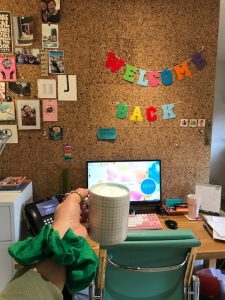 May    Reviews
I cannot recommend Gemma and Horizon enough. Always cheerful, helpful and goes the extra mile to ensure candidates are well looked after.
– from our candidate, Kate, who we placed into a new job in E-Commerce
June  2021
Almost as testimony of what a strange year it was, we turned 10 years old on 1st June and totally forgot all about it. We did, however have some very sweet canine temps in our office (Gemma was dog-sitting)…Here's one of them 😍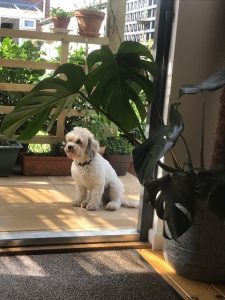 June  Reviews
Working with Horizon Research to find me a suitable placement to further my skills, self development and continue to contribute to the lives of the public has been an amazing experience.
Kate and Gemma are very much involved the the journey with regular updates and communication. They are always happy and friendly and just eager to assist.
I couldn't be more privileged to have had them helping me. Thank you for all the great support.
– from Trevyn, a candidate we placed as a Senior Gardening and Sustainability Manager at our client's business
July  reviews
Cannot rate Kate and Gemma highly enough. From start to finish they have both been absolutely amazing! They are so, so friendly and put me at ease and were there to offer help every step of the way. Definitely went above and beyond. Thank you both so much 😊
– from Emma, who we helped into her HR job in July 2021
August  2021
After a subdued Summer of quietly plugging away on the work we'd got on, August saw a spike of excitement as suddenly we had a huge spike in vacancy numbers. At one point we had more live vacancies than we'd had on the go in several years. Strangely, the jobs market seemed to be rife with vacancies but at the same time, there was a nation-wide shortage of candidates. So, we spent a lot of time resourcing and approaching candidates for jobs. It was so good to feel properly busy again but it was quite unexpected, given that we all thought employers would be reluctant to hire during the pandemic. We felt very fortunate to be so busy and LOVED being 'back at it' properly 🤩🤩🤩
September  2021
Whilst we might have forogtten about the business turning 10 in June, we didn't forget about Kate's 10th anniversary working at Horizon!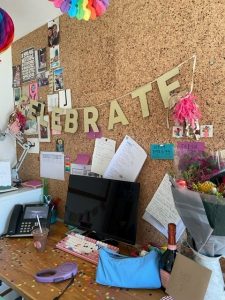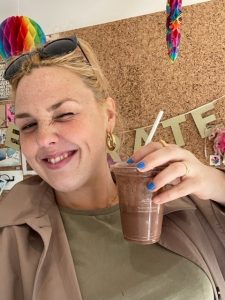 October  2021
We were just returning to normality, both back full-time, both working away as normal when Gemma spotted a rescue pup in need of a new home…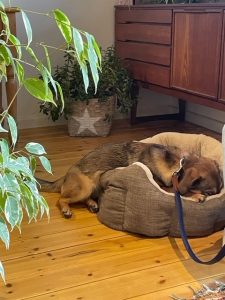 Everyone, meet Fern. 8 months old, never had an office job before, and has a patchy understanding of the English language. Very enthusiastic though so we decided to keep her on 😁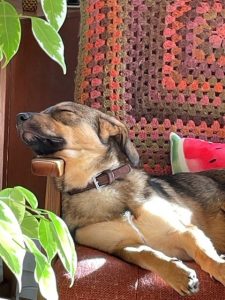 November  2021
And before we knew it, the year was nearly at a close. After a huge flurry in July-August and September, our workload returned to a slightly more normal level. It was nice to catch our breath after such a hectic few months. We now leave the office for 30 mins each afternoon to take Joy and Fern for a walk which is a welcome break for us to catch up on what's been going on with each other's vacancies, candidates and clients. Phew. Here's a bit of winter sun from one of our afternoon strolls…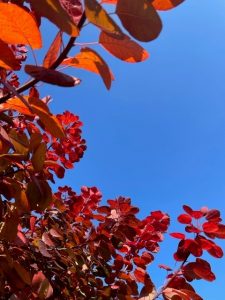 December  2021
We say farewell to a topsy turvy year by going out for a nice Christmas lunch at our favorite Bury St Edmunds restaurant and on the same day – getting our favorite review of the year 🥰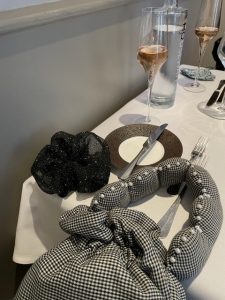 December   Reviews
From the moment I received a request from Kate through LinkedIn asking to join my LinkedIn network, I accepted out of curiosity. It has been the best thing I have done in a very long time.
Kate immediately followed up with an informative e-mail about an opportunity of filling a vacancy for a HS&E Manager role she was working on with her client. Soon after, we had a phone conversation which truly made me realise how professional, caring and trustworthy, the whole experience of the process was conducted.
Within 2 weeks after our initial contact, I was granted an interview and a job offer followed. She regularly kept me up to date with the progress of my application, and provided valuable insight into the company I was potentially joining. When Kate was not available, Gemma was always on hand to assist. A very overwhelming thank-you to Kate and Gemma. Professionals at their best.
– from Webster, a HS&E Manager who we helped into his new job in Suffolk
_ _ _ _ _ _ _ _ _ _ _ _ _ _ _ _ _
So, there we go. A year of two extremes – from worryingly quiet to being busy bees. We're so grateful to everyone who has supported our business and been there for us. We love what we do and are so lucky to still be here doing it when so many small agencies have had to close their doors. Roll on 2022!!
From Kate, Gemma and Joy & Fern the Horizon dogs x