Our Founding + Mission Statement :)
Published: 11th August 2020 | Author: Kate Howes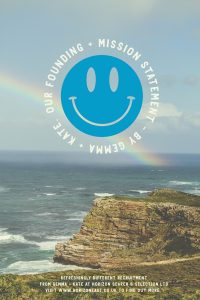 Howdy, hello, hi. It's never too late to write and set free your mission statement to the world, right? Well, we hope not because only nine years late…here it is!
It has been sat on our desktops as a draft document for the last few years because it's been tricky to find the mental clarity, time and headspace to get it bang-on, so it succinctly explains why we do what we do, and what we want to accomplish. Having the idea in your head is great but getting it down on paper is surprisingly hard!
We also thought, well, maybe we don't need one? We've been OK until now…but even if nobody reads it, we still feel it is important to outline what we already knew and metaphorically plant our flagpole in the ground, letting it fly high for all to see. It feels good to get it out there!
Horizon    was   created
Sometimes bold changes are born out of frustration. This is how Horizon came to be. Gemma had spent a decade of working for various corporate and independent recruitment agencies, feeling like a square peg in a round hole.
She often thought "it would be so much nicer for everybody involved if we could just do it this way…". So, in 2011 Gemma took the plunge and we've been going against the grain of how most recruitment agencies operate ever since. It took us a few years to smooth out what does and doesn't work for us (whilst keeping the business afloat!) but here we are.
Our success so far has been reliant on repeat business and recommendation. Now in our 10th year in business, we feel happy to be here and are excited about our future. Horizon is comprised of only two people, and we have no desire to expand because we are our brand and our service.
Our   mission   is   to…
Be the most effective, friendly, truly honest, no bull doo-doo recruitment agency in the UK
Genuinely offer a fair, compassionate and helpful service to the people we work with
To champion equality and diversity in the workplace
Never rip off our clients but instead provide the best value for money we can
To be transparent about our fees, processes and how we operate
Always offer sensibly priced recruitment services to clients
To not tolerate any form of sexism, racism, inequality, age or other forms of discrimination
Work in line with the REC (Recruitment Employment Confederation) code of conduct and good practice, as well as employment law and legislation
Hopefully, slowly change how our industry is perceived
To operate on a policy of mutual respect and kindness
To always try to be helpful
How    we    operate
Just the two of us – everything we do, WE do. No part of our service is outsourced, and we are both partners in business, meaning we are 100% dedicated to what we do
We Love Learning! We're dedicated to finding out about our client's organisations, industries and technologies as well as our candidate's skills and personalities
Listen Up – it's so vital for us to listen to YOU. Our client, our candidates, we want to hear about what makes your team/company/skillset unique so we can work with you most effectively.
We're open! No, really… Honesty and open communication are very important to us. We are transparent in the way we work
No pestering here. Back in the early days, we used to spend a few hours each day making sales calls. But we got the impression that it might be a bit annoying. Instead, we rely on word of mouth recommendation, marketing, and repeat business.
Cutting corners? We don't think so. We are small, we are friendly, but we do things properly and conduct our work professionally. We are corporate members of the REC (Recruitment Employment Confederation) who make sure we pass rigorous compliance testing each year.
Reasonably priced fees. Our fees are reasonable, they allow us to pay our bills and mortgages and invest back into our business. But, we aren't greedy and don't ask for more than we need.
Respectfully. A two-way street of respect and trust is really important to allow us to work effectively for you.
Last but not least; successfully. We are, we have heard, quite good at not only pairing up people's talents with the right jobs but also appropriately slotting characters into like-minded teams and company cultures.