The Gift of Giving – We Love The Mix!
Published: 28th November 2019 | Author: Kate Howes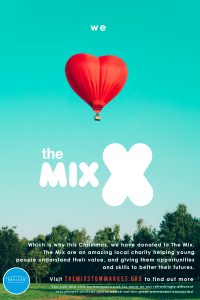 It's nearly that time of year again and in the spirit of giving, we've decided to donate to a local charity, The Mix, this Christmas…
The Mix at Stowmarket is a fantastic charity supporting local young people throughout those tough years in life. They work with local young people to empower and enable them to change their world and ours.
The experts and volunteers at The Mix offer a wide range of advice and support to young people in and around Stowmarket. Ultimately, they are there to empower young people to make informed decisions in their lives and providing them with the tools, confidence and opportunities to further themselves.
Ho – Ho – Ho – Hope !
When Kate recently spoke to Rae, Together Project Director at The Mix, she found that The Mix works with a wide range of young people including those who have struggled at some point and have perhaps fallen through gaps in the education system. We spoke about how The Mix works to build confidence and skills in these people, but also how often they really need a bit of hope and a chance to prove what they can do.
The Mix is always seeking out Business and Community Partners to join their friendly network. Whether you can donate, offer services, work placements, or just some time and advice…they'd love to hear from you. As they say on their website, The Mix doesn't just see the value in community – they know it is this essential community spirit that brings people and businesses together in order to provoke real change.
If you are a hirer or company decision-maker reading this and feel you could offer a chance and a bit of support to a young person that The Mix are working with, then get in touch with Rae on 01449 745130 or hello@themixstowmarket.co.uk
Super – Star  Services
The Mix offers a really wide range of options to support and services to those they work with which includes:
Coaching & Counselling
Drop-In Youth Clubs
Crisis Services
Leadership Training
Thrive Programme
Work experience placements and employability support
Impressively, they also run three businesses including the awesome BRIX, a Branding, Print & Design firm as well as Cabbages & Kings, a successful coffee shop and catering business, plus Book a Space which offers a matching service for professional, vibrant workspaces in and around Stowmarket. All three businesses provide workplace training and invaluable experience for the young people being supported by The Mix but also…they pour 100% of their profits back into the work they do at The Mix. Yes guys, amazing!
Why  The   Mix ?
We were particularly struck by The Mix as they offer services, workshops and facilities which aim to develop young people's skills to improve their employability as well as helping them deal with the challenges they may face in life. An important local resource for our young folks, as they will be the future workers, managers and business owners in our area.
If you want to find out more about the amazing work The Mix do then check out their website here.
Keep  an   eye   out…
We'll be making a trip to The Mix next year to find out more about the impact of their work and also to ask how we might be able to help as we move into 2020. Exciting! Watch this space for updates!