We're home! Finally we're in our new office in Bury St Edmunds…
Published: 18th November 2019 | Author: Kate Howes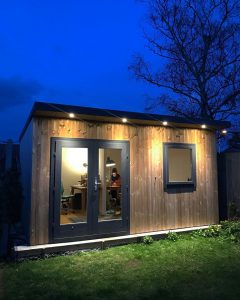 Aaaaand WE'RE HOME! Literally, at Gemma's house in our new office down the end of the garden 😍🙌🏡
It took a little while but we're finally moved into our new office in Bury St Edmunds. A bit like our business, we like to do everything ourselves as much as possible and our new office was no different. We started off the build back in May, laying our own foundations in readiness for the structure of the office to go up (from the lovely, local Merit Garden Products in Stowmarket). Once delivered, Gemma, her Husband and cabinet-maker extraordinaire Andrew Turp and both of their Dad's, Gordon and Bruce worked tirelessly on what was the hottest day of the year to get it up!
It was then a labour of love on Andrew and Gemma's part (with a bit of decorating help from Kate and her Husband Tom!) to get the interior finished ready for us to move in. Finally, that day came last week and we're now fully settled into our new place. As you'll see, Joy one of our office dogs looks at home already!
We've had an up-and-down road to get here but it feels brilliant to be moved in finally, to be able to cut down our costs and be a bit more flexible and adaptable both when it comes to changes in our market but also what kind of service we can offer our clients and candidates too. As we're in a more central location now, we're a few minutes from Bury St Edmunds' town centre so drop us a line if you want to meet over a coffee to discuss your recruitment plans!
Our usual service is fully resumed now and we're still contactable on 01379 898474 and each of our direct dial numbers too.