IT'S CHRIIIISTMAASSS!!!
Published: 20th December 2018 | Author: Kate Dyer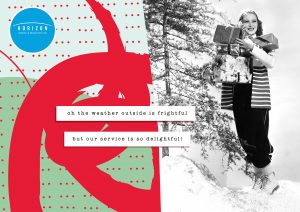 A big 'Merry Christmas' and a 'Happy New Year' to all of you!
From our awesome Clients and brilliant Candidates to the best Suppliers we could ask for, and then our friends, families and everyone else…thanks for your continued business, support, services and laughs over 2018!
As Horizon are just a small team of three, all of lovely lot you feel a bit like our extended work family, so whoever you are, thanks for your everything this year and here's to a cracking 2019 for us all!
If you're having a nice old break then enjoy, but if like many you've only got one or two days off (or none!) then we hope your Christmas is even more extra-special as it is troopers like you that keep the world going round.
Big festive love and cheer,
Team Horizon – Gemma, Kate, Ruth (oh and Emily & Joy the doggos)