It's World Mental Health Day which got us thinking…
Published: 10th October 2018 | Author: Kate Dyer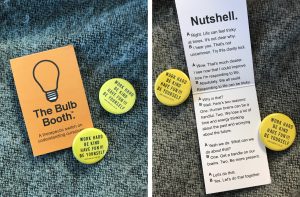 As you might know, it's world Mental Health Day today which got us thinking about a few things…
Our  brains  are  weird  aren't  they?
Clever, mysterious and mischievous. They'll often do things we don't want them to do and act in ways we can't always control.
Mental Health issues stem from one place; the spongey pink stuff lodged between our ears. While some people might be affected by past experiences and traumas, some people are more sensitive to, and affected by what's happening around them.
This   brings   us   nicely   to   kindness…
Kindness is free, it's something that's so easy to impart on others and one act of kindness can drastically change how another person feels for the better. You can exercise kindness all the time, no matter who you are, what you do or where you are. There's plenty of kindness and kind people in our world, but a bit more wouldn't go amiss. A simple gesture, smile, or 'thank you' can go a long way. And don't forget; you've got to be kind to yourself too!
Recently, at the Menta Show we got chatting to a chap called Joe, the Founder of The Bulb Booth, a Bury St Edmunds based organisation. The Bulb Booth offer a service to those who might be struggling in one way or another. They offer counselling services but not just that, they understand every person is different. They seem to work with people to help them understand that it's OK to be you; and help you find new approaches to the challenges you might be facing.
Joe's business card really struck a chord with us so we wanted to share their details though in case anyone wanted to talk to Joe. No matter where you are, there will be lots of wonderfully helpful, supportive and affordable Counsellors nearby you so if you or somebody you know is struggling, put them in touch with somebody who can offer help but in the meantime…always remember to be kind!
If you didn't see our article on Mental Health in the Workplace back when it was published in May take a look here.
#WorldMentalHealthDay #MentalHealth #BeKind #Kindness #Coping #Positivity #Counselling #MentalHealthFirstAid #WMHD