Our First Ever Exhibition / We Love the Menta Business Show!
Published: 10th October 2018 | Author: Kate Dyer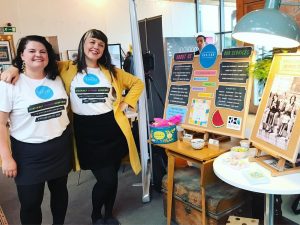 Well, a week has passed since we exhibited at our first ever Menta Business Show and we thought it was about time (after a hectic week!) to reflect on how it went. If you're thinking of attending either as a visitor or exhibitor next year, hopefully you'll find our thoughts insightful…
It   was   a   cracking   day   from   start   to   weary   end…
For us, we've spent seven years quietly working away doing our thing without much exposure or advertising and in our eighth year we felt it time to get out there in our local network and meet some fellow business folks from our region. We were delighted that the Menta Show didn't disappoint with around 1000 attendees (the highest ever attendance apparently) there were plenty of interesting people to chat to throughout the day, although it felt like we spoke to everyone, we're sure there are people we missed!
From start to finish, the set-up and support from Menta was great and a special shout-out must go to the kind people who helped us lug our cumbersome display up and down and back and forth when setting up and leaving. Note to future exhibitors; make your display exciting but as lightweight as possible!!!
Although we hoped to get out there and see every fellow exhibitor's stand, we didn't quite manage it as our own stand seemed to be busy all day, with lots of people wanting to find out more about who Horizon are and what makes us different. We hope it was as promising as it felt from a 'getting our band out there' perspective! We've had a huge amount of enquiries since and our website traffic shot through the roof in the days following the event, so it's nice to think lots of people who weren't aware of us before are now.
Other   special   shout-outs  must   go   to:
The Mix – Stowmarket – an AMAZING charitable organisation that help young people harness their potential and guide them through some of the trickier years in life. They also have their own venue you can rent a space in and are generally quite wonderful people, doing great things.
Bury St Biscuits – An awesome local baker who created us some beautiful watermelon shaped biscuits to give away. Check out her Instagram and go buy or commission some of your very own biscuits!
i101 Digital Ltd – For being lovely and putting us at ease (despite the camera!) when we felt a bit nervous at the start of the day
Wild Play – A local business who do some great sounding days out, both corporate and for kids, families and just general fun!
A big THANK YOU to everyone who came to chat with us, everyone who played our games and took away prizes too. If you snapped up a Horizon notebook/badge/calendar/biscuit etc. then send us a photo if you have any (although you're mad if you've not eaten the biscuit yet!). Here's to next year!