Phew…that was FAST recruiting!
Published: 5th September 2018 | Author: Kate Dyer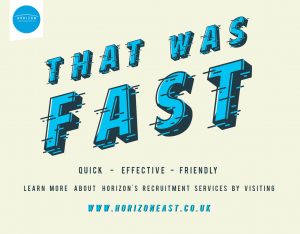 We recently had a super-quick turnaround when a client's vacancy and a candidate's search just happened to coincide at the perfect time!
From our candidate sadly being made redundant on the Monday, to us taking the vacancy on Tuesday afternoon, and then an interview and offer by the Friday morning… all within the same week. Phew! That really was fast.
Our candidate started their new job this week, and we couldn't be happier for them! We might be a small team, but we act quickly but without compromising quality for our clients who have quick turnaround requirements, but still want to find the perfect person for their team.
So…
If you have a vacancy you're looking for some help with, give us a call on 01379 898474 or visit our client page to find out more about our services!